Ferries and Flights
Zanzibar Ferries makes best holidays deals between Zanzibar and Dar es salaam by providing a very reliable and comfortable travel. Visit this places with the people you love the most. This place is certainly perfect for families and couples seeking a relaxing getaway that is far from the hustle and bustle of the city. The various breathtaking places and scenery in this beautiful place will surely bring you relaxation beyond compare. Zanzibar Fast ferries are of between Zanzibar Pemba and Dar es salaam, Zanzibar Fast Ferries,can take Maximum 2 hours to reach Zanzibar from other destinations
At this juncture there is various  leading Zanzibar Fast ferries company that offer very reliable daily services across and offering  very reliable schedule services between Dar es salaam, Zanzibar, Pemba Island and Dar es salaam
Book your Zanzibar Ferry boat and travel with  SpotKenyaTours & Safaris and you'll start your holiday break as soon as you leave one destination start to relax and enjoy the sea and sky views on a direct Hydrofoil Speed boat to get into the holiday spirit to your last destination
Whether it's a day's shopping trip or a holiday break you're after, at 2hours by Zanzibar Sea ferries journey from Dar es salam to Zanzibar. It is a quick,very comfortable and enjoyable way with entertainment on board, come to the beautiful Island of Zanzibar and go at your beach leisure
Travelling between Zanzibar and Dar es salaam is always very simple and convenient – with up 7flights and 4sea ferry sailings a day,there's a cross channel ferry at a time that's right for you,please contact Monda Africa Tours & Safaris to assist you to arrange.
DOMESTIC FLIGHT TO & FROM ZANZIBAR
As a traveller you will agree with us that the costs of Flight and  timings are provided by airlines and are subject to Air Traffic Control restrictions. It is the fact that associated with flight arrangements are not always stable,for any schedule alterations or booking reservations please we highly recommend you contact Monda Africa Tours & Safaris for the current schedule or all changes,whatever requested.
FAST SEA FERRY TIMETABLES TO & FROM ZANZIBAR
There is Sea ferries timetables, to and from Zanzibar
DAR ES SALAAM TO ZANZIBAR
Depart:  07H00  Arrive:  09H30
   10H30     12H30
   12H30     14H00
   15H30     17H00
ZANZIBAR TO DAR ES SALAAM
Depart:  07H00  Arrive:  09H30
   09H30     12H00
   12H30     14H30
   15H30     17H00
ZANZIBAR BIG VESSALS  TIME-TABLES  TO & FROM PEMBA ISLAND
There  is  Sea ferries timetables, to and from Pemba Island
PEMBA TO ZANZIBAR
Depart:  06H45   Arrive:  14H30
ZANZIBAR TO PEMBA
Depart:  06H45   Arrive:  14H00
SLOW & NIGHT FERRIES & IS FROM ZANZIBAR ONLY
With night sailings ferries,you can enjoy great on board Tv entertainment and delicious food choices on board. Your ferry cross between  Dar es Salaam & Zanzibar.The slow Ferries travel out of Dar es salaam at noon and from Zanzibar at night.
You'll be assured of a good night's sleep too, at very comfortable ensuite cabins.Taking the ferry to Dar es salaam from Zanzibar,and as it's all at night,those miles will disappear while you are asleep. When you wake up the next morning, you'll arrive at Dar es salaam Sea Port  refreshed and ready to the next destination trip or leisure day in Dar es salaam city.
SLOW & MORNING BIG VESSELS TO & FROM PEMBA ISLAND,Please note that there is no Currently Hydrofoil Speed boat Crossing between Pemba Island and Zanzibar
The slow Ferries cross out of Zanzibar to Pemba at 06H45 by Mv. Azam Sea Link/MV Mapinduzi 4-times a week in each destination and arrive earlier in the Afternoon at 14H30.From Pemba to Zanzibar start at the same time on second day around 06H45 Morning
CONDITIONS OF CARRIAGE
SpotKenya Tours & Safaris is acting  as an Agent for the domestically flight and ferry Boat companies who set their own condition of carriage. Therefore there would be a small surcharge fee as our Agent commission,so don't surprise to notice what you paid is not exactly with what showed on your flight or Ferry tickets. If for one or another reason you wish to change your travel plans,dates,any amendment or to cancel the trip the condition of carriage would apply accordingly
Contact  SpotKenya Tours& Safari reservations department to find out more about domestic flights and Sea  ferry routes, schedule & fares.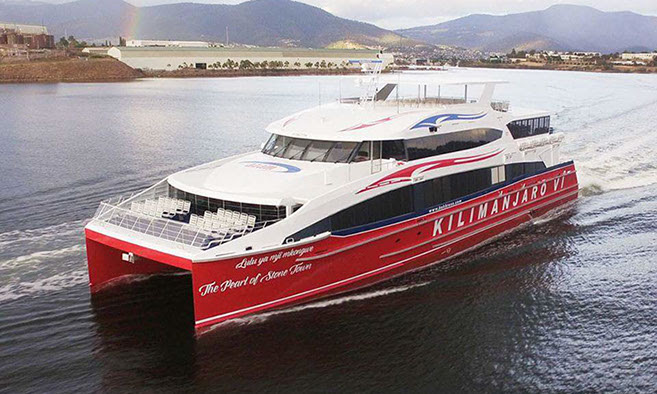 Stone Town view from Zanzibar Port